View Reference:
Give Me All You Got - "Album Reviews"
"
Singer-songwriter Carrie Rodriguez is definitely not a "girl just passing through," a la the slippery character of "Devil in Mind" on her acclaimed new album, "Give Me All You Got." Judging from the sound of the soulful ballads and simmering rave-ups on this album - recorded at Berkeley's Fantasy Studios - she's ready for a good long stay around the top of the Americana airplay charts.
" -
Kimberly Chun / SF Gate
* * *
"
Carrie Rodriguez first came to public notice as a result of her duet records with Chip Taylor, but she's been a thriving solo artist for a while now. She released her début album, "Seven Angels on a Bicycle," in 2006, and recently put out her fifth, "Give Me All You Got." Along the way, Rodriguez—who plays Rockwood Music Hall on Feb. 6—has broadened her sound. It's still founded in country-folk and showcases her skilled fiddling, but her arrangements have ventured to the border of pop music without quite crossing it. "Whiskey Runs Thicker Than Blood," one of the strongest songs on her new album, is a nearly perfect mid-tempo shuffle with pedal steel sparkling on the surface. And "Brooklyn" cannily celebrates both her adopted home and the pleasures of occasionally escaping it. What is most impressive about Rodriguez's singing is something unexpected: her diction, which can be slurred with emotion one moment and crisply analytical the next. She creates beautiful music that is always slyly smart, which in turn makes it more beautiful.
" -
The New Yorker / By Ben Greenman 2/11/13
* * *
Huffington Post - String Fever: Carrie Rodriguez Adds Fuel to the Fiery Fiddle
"Carrie Rodriguez just might be the hardest-working woman in American roots music. The Austin, Texas-born-and-raised singer-songwriter plays the fiddle, but doesn't fiddle around." Full article and interview at Huffington Post
* * *
"Carrie Rodriguez is a Texan singer/fiddler/songwriter and this album is the fifth released under her own name. She has also worked with legendary songwriter Chip Taylor (Wild THing & Angel of the Morning) and that learning curve has served her well." - Rock Society / UK (Jan/Feb 2013 issue)
* * *
"Equally accomplished and pen, she has created a fine album which has a defined Country Rock edge, especially in her vocals, but don't get the impression that this is a purely Country Rock album, far from it, as some of the more mainstream rockier tracks are amongst the best moments and her prowess on the fiddle gives those instances a harder, 'Devil Went Down To Georgia' feel. - An excellent album of pure Americana. " - SW
* * *
American Music Show by Calvin Powers - Interview with Carrie
HERE
* * *
Twangville
By Shawn Underwood
January 16, 2012

I'll get straight to the point here. Carrie Rodriguez has finally captured the energy, or spirit, or je ne sais quoi, or whatever you want to call it, of seeing her live, on a record. I've enjoyed Carrie's previous records. But they tended to be sort of introspective. Go to a live show, though, and it's full of energy and soul and uptempo fiddling and singing. Give Me All You Got reflects that side of Ms. Rodriguez. That's not to say that there's none of the previous style on this album. Get Back In Love is a lovely acoustic number that borders on dainty. Cut Me Now, even with its electric guitar foundation, is nonetheless a soft, painful cry. Most of the slower numbers, though, have a little more pop sound to them and a hummable quality, like Sad Joy or Whiskey Runs Thicker Than Blood.

Where the record really shines is in the uptempo songs. The disc opens with Devil In Mind, a rock-ish ode to having a little liquid courage before stepping out on the dance floor. My favorite is Lake Harriet, a finger-snapping ditty about, of all places, a lake in suburban Minneapolis. As a long time Austin area gal, all I can say is a show in Minnesota must have made a real impression.

Finally, I have to give a shout-out to I Don't Mind Waiting. A nice country waltz, it's musically a real outlier, but it's so well crafted, with just Carrie on vocals and fiddle and Luke Jacobs on vocals and guitar, that it ends up being the exception that proves the rule. Carrie Rodriguez is one of the brightest talents in Americana, and Give Me All You Got finally captures that on a record.
* * *
FATEA / UK - by David Hughes
The stock of Texan artist Carrie Rodriguez is set to rise as she continues to reap the benefits of her rich musical heritage and the influences she has been exposed to. After a period of interpreting the songs of others with 2008's LOVE AND CIRCUMSTANCE and the 2011 duet EP with Ben Kyle WE STILL LOVE OUR COUNTRY, Carrie has re-ignited her song writing skills in this eleven-track new release, the Lee Townsend-produced GIVE ME ALL YOU GOT.
The exemplary fiddle work that has been the signature sound of Carrie since the early days of her classical upbringing is still very much in evident as she continues to explore the world of Americana music with a host of talented collaborators. As per usual, her mentor, the legendary Chip Taylor (Wild Thing, Angel of the Morning), continues to be a guiding light for Carrie. As well as supplying a brace of his own compositions', he assisted Carrie in the writing of the two opening songs, which help shape a very strong album. The first of these 'Devil in Mind' is a trademark Carrie track adorned with her delightful fiddle complementing the sultry vocals. The song appears later in the album in instrumental format with an arrangement that adds value to the original and is no mere filler.
Some of these new songs were previewed during Carrie's set at last year's Maverick Festival when she toured with her latest musical sidekick, Luke Jacobs who plays a prominent role in this release with his co-writing and versatile guitar skills. One of these songs, 'Lake Harriet', left a positive impression and its recorded format is the record's finest track with a snappy introduction and infectious beat. The fact that this is a solo-Carrie composition bodes well for the future self-confidence in her song writing skills. The country credentials of this song are apparent, albeit the subject is a Minneapolis tourist spot, not your usual southern inspired location.
Carrie's previous collaborator Ben Kyle has penned the tender ballad 'Get Back in Love' that is part of a trio of slower numbers which hold the middle section of the album together alongside 'Tragic' a co-write with Luke Jacobs and Chip Taylor's 'Cut Me Now'. The latter having an increased electric input into its sound. The penultimate track 'Brooklyn' is an autobiographical piece heavily featured in the press release and it being a co-write between Carrie and Luke re-affirms the potential in this pairing to develop their song writing partnership. This continues in the reflective old time feel duet number 'I Don't Mind Waiting' that brings the album to a suitable conclusion.
It's a very positive sign that Carrier has returned to writing and this compilation of original material is the perfect opportunity to re-establish her as a prime artist in the Americana movement who is extremely active both sides of the Atlantic. Some UK dates are pencilled in for the second part of 2013, so in the meantime set aside some time to enjoy this album from one of the young leading lights in country, roots and Americana music.
David Hughes / FATEA
* * *
Three Cords and the Truth - UK
"The stock of Texan artist Carrie Rodriguez is set to rise as she continues to reap the benefits of her rich musical heritage and the influences she has been exposed to. After a period of interpreting the songs of others with 2008's LOVE AND CIRCUMSTANCE and the 2011 duet EP with Ben Kyle WE STILL LOVE OUR COUNTRY, Carrie has re-ignited her song writing skills in this eleven-track new release, the Lee Townsend-produced GIVE ME ALL YOU GOT."
- Full article
here
* * *
Stereo Subversion
by Andrew Greenhalgh - December 19th, 2012
Carrie Rodriguez's musical career has been one marked by subtle growth. Since starting out as a touring and duet partner with Chip Taylor in 2002, she's managed to work her way through playing as a supporting act for numbers of talented artists while on a rise of her own. The influence of those artists can be heard throughout her solo career, with covers dominating her early work while opening way for the artist to truly tap into her own developing gifts on her latest release, Give Me All You Got.
Following on the heels of her 2011 duet recording with Ben Kyle of Romantica, We Still Love Our Country, Rodriguez continues to fly her musical flag in that same heartfelt Americana country vein; however, this time, careful listens will note some more progressive pop flairs throughout. That progression can be linked to the influence of producer Lee Townsend — whose resumé boasts work with artists the likes of Bill Frisell and Loudon Wainwright III — who attempted to capture the well-seasoned band live in the studio.
And while it may be a mature record thematically, that maturity doesn't negate the fact that it's a whole lot of fun to listen to. As mentioned, a pop flair runs through several of these songs, with tracks like "Tragic" showcasing a Norah Jones-ish vibe with a lazy, laid-back arrangement, while "Whiskey Runs Deeper Than Blood" presents itself with an indie pop flavor while still coloring with acoustic notes. Additionally, "Brooklyn" offers itself up with some playful tones, with Rodriguez taking some fun liberties with her phrasing and letting the song build and lilt like a warm summer breeze. Meanwhile, "I Cry For Love" is a track that could and should make a run for modern country radio, possessed of a driving beat and take charge lyrics.
Yet, it's the old school tracks where Rodriguez has made her hay in the past and continues to be where she hangs her hat most successfully. The artist taps into the classic country vein on songs like "I Don't Mind Waiting" and "Lake Harriet" while stepping into Lucinda Williams-styled Americana on a track like "Cut Me Now," accented with pained lyrics with an arrangement that matches perfectly. And on the blues-tinged "Devil in Mind," her voice sassy, sultry and sexy, the artist shows why she's got the whole package.
Carrie Rodriguez is an artist that continues to grow and Give Me All You Got will bring listeners back longing for even more. - Stereo Subversion / Andrew Greenhalgh
* * *
Folk & Acoustic Music Exchange
by Mike Jurkovic - November 30th, 2012
"On her fifth studio release as a solo artist, Americana's rootsy darlin' reveals more of herself than she ever has before. As a follow-up to 2010's wildly acclaimed Love and Circumstance, a masterful
collection of compelling and seductive covers, Give Me All You Got returns Rodriguez to her songwriting fore and we all reap the benefits.
Produced by Lee Townsend, the disc captures a very live, exuberant vibe. As Devil In Mind, a saucy starter, proves with proof to spare. Though I never agree with a singer/songwriter including an
instrumental version of a song as she does with an instrumental version of said song, I have to admit that hearing that fiddle cutting through is a concession I'm willing to concede this one time. The way she slyly slurs Sad Joy is almost too-knowing. And whereas the thoroughly irresistible Lake Harriet reveals a hitherto little exposed pop radio sensibility; as does the darker themed Whiskey Runs Thicker Than Blood and the playfully delightful, autobiographical Brooklyn might have some suspecting the lady has lost her edge, it's but a fleeting concern, as I Cry For Love, Tragic, and Cut Me Now bear out beautifully. Add the old-timey, closing duet I Don't Mind Waiting and Give Me All You Got ends with an ever-evolving artist at the top of her game."
* * *
Carrie Rodriguez came to prominence working with singer/songwriter Chip Taylor (who is heavily involved in the songwriting on the album) and since 2006 has released three solo albums to date. On this new album she goes for some dark lyrical themes and has been influenced by Leonard Cohen.
Musically this album touches a fair few bases although it has Americana at its heart, with some bluegrass, folk and even a little indie rock thrown in for good measure. 'Devil In Mind' is n upbeat start and does have a little indie rock attitude. The song is reprised as an instrumental with Carrie Rodriguez's manic fiddle playing taking centre stage.
The quieter songs really gel with the listener, most notably 'Get Back In Love' with a blissful, restrained lap steel guitar. 'Brooklyn' has an almost pop feel to it and would been a shoe-in as a song for 'Dawson's Creek' if it still was being made.
This album should help Carrie Rodriguez get some wider recognition and her voice has soothing quality coupled with some jaw dropping fiddle playing. - Jason Richie / Are You Ready To Rock - UK
"…her voice—at full throttle on the album's first single, "I Cry for Love"—is now her primary instrument."


"Rodriguez at her freewheeling best, an inspired mix of passion and energy that captures the spirit of her feel-the-burn live shows."
"[Rodriguez] creates beautiful music that is always slyly smart, which in turn makes it more beautiful."
"…her finest, most poignant and accomplished album in an already impressive seven year solo career."
"…her world-class fiddle melodies tie ideas together in ways that a voice alone just can't."
"…sweetly earnest vocals and fiddle prowess worthy of the finest Texas dance hall.
"…equal parts divine and devastating…it's no surprise that Give Me All You Got easily represents the strongest work of her career."
"Carrie Rodriguez is one of the brightest talents in Americana, and Give Me All You Got finally captures that on a record."
"I have to say I am very impressed. She's got something unique in her voice that's very subtle and a little smoky and sweet. She's got a refreshingly spunky attitude to go along with it. I detect a certain wisdom in her, and yet a sense of wonder as well." - Lucinda Williams / New York Times (February 4, 2007)
"Carrie Rodriguez has grown and blossomed into a poised and confident vocalist and a mature, confident, and extremely moving and graceful songwriter...everything on this impressive outing fits together like honey and smoke in a warm but vibrant Texas breeze." - All Music
"Another clear triumph... as seductive and enticing as its name implies because clearly, Rodriguez is giving all she has as well." - Blurt
"Rodriguez sounds in complete command... the resulting album sounds richer, more spirited and more genuine than ever, giving the best account yet of Rodriguez's considerable talent." - Los Angeles Daily News
"Some artists are blessed by such a humbling personality that ego never becomes an interfering factor in their craft, even as an audience watches a legacy growing right before their eyes. With a gift for somgwriting, a love of performing, eye-catching beauty and an Austin accent warm enough to slather on toast, multi-instrumentalist Carrie Rodriguez fills any room simply with her smile and lack of pretense." - David Higdon / Jambase.com (December 1, 2008)
"...Give Me All You Got is an earfly contender for best Americana music album of the year." - UT San Diego
"Her sultry voice and passionate fiddle work immediately quieted the talkative Deer Valley audience. ...Her clear voice, with a sizable helping of Texas and Latin flavor, captivated the crowd." - Nan Chalat Noaker / The Park Record (August 28, 2012)
"Like an actor in a play, Rodriguez displays a whole range of emotions on stage." - David McGee / Bristol Herald Courier (September 16, 2012)
* * * Below are press quotes from the UK / fall of 2013
Classic Rock presents Country "The planet's coolest fiddler on drinking songs, rednecks & the joy of sadness"
The Independent "Carrie Rodriguez is a singer-songwriter and fiddle player of great accomplishment and tastefulness. Good songs, lovely arrangements".
Guardian London gig "rousing fiddle work and passoniate performances"
The Times London gig "Carrie is now a star in her own right & was accompanied by Luke Jacobs who moulded his harmony vocals to the contours of Rodriguez's voice with an appealing chemistry. Both performers engaged the audience with their personalities as well as their music".
Uncut "A well-rounded triumph"
BBC Radio 2 "Really good album from top 5 of Americana music charts" - Bob Harris
Country Music People feature "Give Me All you Got is Rodriguez strongest album & there is a relaxed confidence about her performance. Her personality, musicianship & songwriting ability are in perfect balance."
Fatea "set aside some time to enjoy this album from one of the young leading lights in country, roots and Americana music"
Rock Society "An excellent album of pure Americana, Carrie's journey from classical ingénue to sharp shotting Texan thoroughbred, is complete."
Country Music People review "She has a considerable career in her own right".
Maverick Mag. 4**** This is an absorbing album.. a record that lives up to its name, as Carrie & her band give it all that they've got. Reveals what Carrie is all about."
Country Music & Dance Scotland "This album will further Carrie's popularity"
Up Country Carrie's playing to the full & her roots are pure Americana. This is a real chill out collection of songs & the more I hear them the more I like them. Well worth a listen.
Net Rhythms "If there's a vacancy for a rootsier, post – Raising Sand Alison Krauss then all other candidates should gracefully withdraw, the position is filled."
Folk North West "Carrie is a talented lady. Devil in Mind has a enjoyable funky fell that begs you to tap your feet."
Burton Mail "Stand outs are the warm, organ-tinged 'Sad Joy' & heart rendering 'Get Back In Love'. One for the Jools Holland set, perhaps."
R2 Rock n Reel Mag. "4**** It's musical simplicity belies the maturity of her approach to writing & characterises another impressive album".
Total Music Mag. Carrie uses her fiddle to great effect her voice is powerful in places soothing in others & her easy to fall for style is exemplified by her nu-country songs".
Musicriot.com "Carrie Rodriguez is easily in the top five live artstis I've seen this hear & her show was warm confident & intimate performance that only a true star can give."
Grapevine Mag. "Carrie is now on top of her game & for me is even better than she was in her days working with Chip Taylor. Carrie sings and plays from the heart & that's what it's all about."
Eastern Daily Times "One of the biggest names on the thriving Americana scene celebrating the release of her fifth album"
My Heroes Have Always Been Cowboys * Interview with Carrie Rodriguez, by Henry Yates / Classic Rock Magazine - November 2013
Pull into Austin, Texas, on any given January 17 and you'll find the city celebrating Carrie Rodriguez Day. Officially, this honour was bestowed on the singer-songwriter for her "work in advancing Austin as the live music capital of the world", and given her dazzling run of albums since 2006, it surely won't be long before she earns the statue and the national holiday. As Carrie's fifth release, Give Me All You Got, climbs charts across the planet, we take her back to the day when the country bug bit.
"Love and Circumstance" - Album Reviews
Album released April 13th, 2010
"...simply an understated triumph. Grade: A " - Glide Magazine (Jun 07, 2010)
"Carrie Rodriguez proves herself an astute interpreter of other people's material via her latest - and best album to date." - Lee Zimmerman/BLURT (April 21, 2010)
"...a case of the right album at the right time." - Village Records (04/02/10)
"...her latest absolutely floored me. It's a dozen covers so skillfully done that some of the original artists might be tempted to enter the witness protection program. If this isn't her breakthrough album there's no justice!" - Phoenix Brown & Lars Vigo/Off-Center Views (May 1, 2010)
"This is an album that you do not want to miss." - NoDepression.net (02/04/10)
"Taken as a whole, the album is a slow burn reminiscent of Emmylou Harris' Wrecking Ball.... the best showcase of Carrie Rodriguez's talent to date." - Juli Thanki/Music & Musicians (May, 2010)

"We Still Love Our Country" - Album Reviews:
Album released February 1st 2011
"…this album is more than just a pair of talented musicians - with fine and subtle voices - imitating the styles of past greats. They have imposed their own talents on some exceptional songs. "

"…they rise to the challenge. It feels like a proper homage to Harris and Parsons but stands on its own merits." - 10/10/11 The Telegraph, UK
"Rodriguez & Kyle harmonize brilliantly and you can feel the respect that sits between these two – I hesitate to say passion because this is one of those rare 'couples' albums that doesn't sound as though the two are desperately in love – they just sound as though they are enjoying the music together." - Andy Snipper / Music News, UK (November, 2011)
"Live in Louisville" - Album Reviews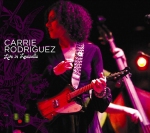 "...a masterpiece of erotic persuasion, a haunting meditation of rhythmic sounds…a work of voodoo." - Shelton Ivany / National News Bureau, from his review of Live in Louisville, (2009)
"The cinematic scope of "Mask of Moses" and the overly sexual "50's French Movie" will have some listeners thinking Nickel Creek has melted into Sonic Youth." - Gene Armstrong/Tucson Weekly, from his review of Live in Louisville
"Fiddler and singer/songwriter Carrie Rodriguez is a breath of fresh air in the too-often stale and stuffy cupboard of American acoustic music. Radio stamps like Americana, chick-rock, and new traditionalist don't come close to all that she's doing in that overlooked vacant lot between straight-up rock and instrumental virtuosity. Though she hangs with bona fides like Gary Louris, Lucinda Williams and Alejandro Escovedo, Rodriguez has the brains and balls to go after music as if she's never heard anyone else make it before." - Chris Barrett / Metropulse, Knoxville, TN (February 20, 2009)
"She Ain't Me" - Album Reviews
Billboard (Critics Pick)- August 9, 2008
With2006's "Seven Angels on a Bicycle," Carrie Rodriguez graduated from progeny status by convincingly stepping outside the tutelage of mentor Chip Taylor. On "She Ain't Me" she continues to strive forward in creating her own oeuvre with an engrossing set of lushly arranged songs. Rodriguez starts things rootsy, textured and topical with the prototypically Americana "Infinite Night," while such tracks as "Absence" and the gentle "The Big Mistake" have more pronounced country touches. She gets by with more than a little help from friends this time out, including Lucinda Williams' singing on the epic "Mask of Moses" and songwriting collaborators Gary Louris, Dan Wilson and Mary Gauthier. None of that takes the spotlight off of her, however; Rodriguez is a triple-threat artist who sounds more formidable with each successive release
"Seven Angels On A Bicycle" - Album Reviews
"Stuff We Weren't Paid to Endorse" (headline) - If you love Lucinda Williams, as I do, and want more of her songs than presently exist, you would do well to get Carrie Rodriguez' Seven Angels On A Bicycle. There are a lot of similarities between Rodriguez and Williams, but Rodriguez plainly has her own wild thing going on. '50's French Movie,' has a fantastical nasty groove." - SJD / The New York Times, from the review of Seven Angels On A Bicycle (October 10, 2007)
"Carrie Rodriguez is a Texas firecracker whose solo debut, Seven Angels on a Bicycle, is an excellent, eclectic collection of dusty pop, folk and jazz." - Dan Nailen / Salt Lake City Tribune, from his review of Seven Angels on a Bicycle (August 18, 2007)
"Austin-based singer/songwriter/fiddler Carrie Rodriguez and company opened the show with a glowing, moody set, full of reverb, breathy vocals and minimalist, impressively smart songs from her recent CD Seven Angels On A Bicycle. She earned every bit of the enthusiastic standing ovation she received." - Marty Rosen / The Louisville Courier-Journal, from his review of Lucinda Williams' show (April 26, 2007)
"Live At Ruhr Triennale" - Album Reviews
If you're a fan of roots rock and Texas country music, then this disc will kind of take your breath away before you even hear a note. The pairing of singer/songwriter Chip Taylor and fiddler/singer Carrie Rodriguez has been an inspired one ever since they started making albums together in 2002. On this live album (recorded in Germany at the triennial celebration of the Ruhr region) they are joined by a band that includes pedal steel player Greg Leisz as well as -- get this -- famed jazz/country/experimental guitarist Bill Frisell.
The music is by turns soulful and rollicking, with dips into the old book of country standards (Merle Haggard's "Today I Started Loving You Again," Johnny Cash's "Big River") and the slightly less old book of rock & roll standards (Chuck Berry's "Maybellene," Taylor's own "Wild Thing"). Most of the remainder are relatively contemporary songs written by Taylor, and several things jump out at you about them: Taylor's own strong voice, Rodriguez's gorgeously reedy harmony vocals, and the almost otherworldly beauty of the live arrangements.